The worst thing about tech bubbles isn't what you may think
As the NASDAQ rises, so do computer science enrollments, and as it falls....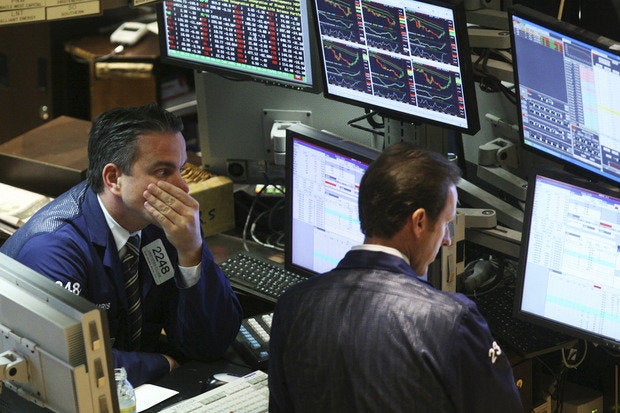 Credit: REUTERS/Brendan McDermid
You may recall how the last tech bubble 15 years ago resulted in staggering market losses, numerous failed start-ups and increasing IT unemployment. Less noticed was the bubble's eerie correlation to undergraduate enrollments in computer science.
As the NASDAQ increased, so did computer science and computer engineering enrollments. They were almost in heartrate synch, like E.T. and Elliott (in the blockbuster movie). When the NASDAQ lost half its value in 2000, within a few years computer science enrollments also fell about 50 percent. Today, enrollments are again spiking right along with the stock market.
The massive valuations of the latest Internet sweethearts has some seeing a bubble in the making. These high valuations include Uber at $50 billion, similar to FedEx, Salesforce, Caterpillar and Target; Airbnb at $25 billion, similar to utility Pacific Gas & Electric and Netflix; and Snapchat's $15 billion, which is roughly equal to Whirlpool and Tyson Foods.
Investors aren't the only ones who get hurt when a bubble pops.
IT employment, excluding tech manufacturing, at 3.527 million in 2001, declined about 5 percent or by nearly 200,000 jobs in the following year, according to data by TechServe Alliance, an industry group. IT employment didn't regain its 2001 level until 2005.
Meantime, the bubble also crushed computer science enrollments. In March 2000, the NASDAQ composite index reached a historic high of 5,048, at just about the same time undergrad computer science enrollments hit a peak of nearly 24,000 students at Ph.D.-granting institutions in the U.S. and Canada, according to data collected by the Computing Research Association in its most recent annual Taulbee Survey. (There are many more computing science students enrolled at non-Ph.D. schools.)
By 2005, computer science enrollments had halved, declining to just over 12,000. Remarkably, it has taken nearly 15 years to reach the earlier enrollment peak.
On July 17, the NASDAQ hit its highest point since 2000, reaching a composite index of 5,210. In 2014, computer science undergrad enrollments reached nearly, 24,000, almost equal to the 2000 high. They may well be past it now.
"It's often difficult to recognize a bubble while you're in it, as unreasonable optimism and speculative greed lead to the belief that a 'new paradigm' will validate wildly aggressive projections," said Bruce Bachenheimer, clinical professor of management at Pace University and executive director of its Entrepreneurship Lab. "It certainly appears that certain sectors of the market are due for a major correction," he said.
The experience of 2000 dot-com bubble is still fresh for many, and while they see risks and reasons for caution, there are also clear differences between then and now.