The Google shakeup continues: Andy Rubin is out
After driving Android to great popularity, Rubin last year took over Google's robotics efforts.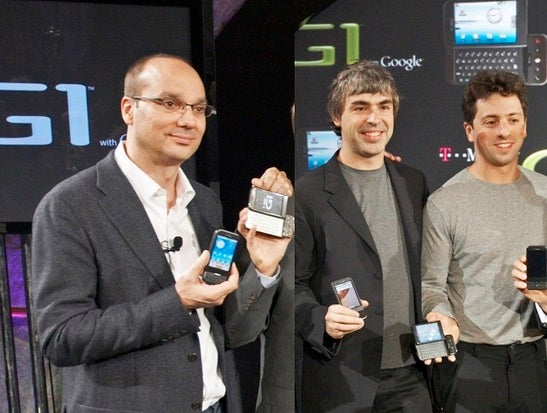 Android chief Andy Rubin with Google cofounders Larry Page and Sergey Brin at the 2008 introduction of the Google G1, the first Android phone. Credit: Reuters
The corporate shakeup at Google continues and now it's Andy Rubin, the former head of the company's Android business and the current head of its robotics arm, who's out.
A Google spokesperson confirmed to Computerworld Thursday night that Rubin is leaving the company, but declined to say how his departure might affect Google's robotics efforts.
"I want to wish Andy all the best with what's next," Google co-founder and CEO Larry Page said in a statement. "With Android, he created something truly remarkable -- with a billion-plus happy users. Thank you."
Rubin joined Google in 2005 after the company bought Android Inc., the business he had founded. He acted as a senior vice president in charge of Android for about eight years, taking on Apple's iPhones and building the Android brand into the world's most popular mobile operating system
In December 2013, he was repositioned to manage Google's burgeoning robotics division. He took over the division as the company was busily acquiring about eight robotics businesses, including Boston Dynamics, one of the best-known robotics companies in the world.
This latest executive shift comes on the heels of a corporate shakeup that saw several Google executives take a step back as one man -- Sundar Pichai -- took over several major divisions.
Seemingly looking to keep Google acting more like a hungry start-up than an aging company that's trying to fend off competitors, Page put Pichai, a senior vice president at Google, in charge of a large swath of the company's core products and services. The move is expected to give Page more time and energy to focus on strategic moves, while Pichai focuses on the details of day-to-day business.
Before this latest move, Pichai, who joined Google in 2004, had been in charge of Chrome, Google Apps and Android.
He reportedly now also will be oversee research, search, maps, Google+, commerce and ad products and infrastructure. Robotics efforts easily could fall under the "research" umbrella, potentially giving Pichai control over what was once Rubin's domain.
The executives in charge of the areas Pichai recently took over had been reporting directly to Page. They now report to Pichai.
Ezra Gottheil, an analyst with Technology Business Research, said Rubin's departure is not a significant loss to Google.
"It doesn't touch on core businesses," he said. "I think robotics for Google is one of a number of potential avenues for future growth, but by no means the only one. I don't think there's a crisis or anything. Companies change."