The digital worker's guide to doing business on the go
Today's workers must do an increasing amount of work outside the office and home. If you're one of them, these six tips will keep you productive, secure, comfortable and secure -- all without scrambling to find a power outlet.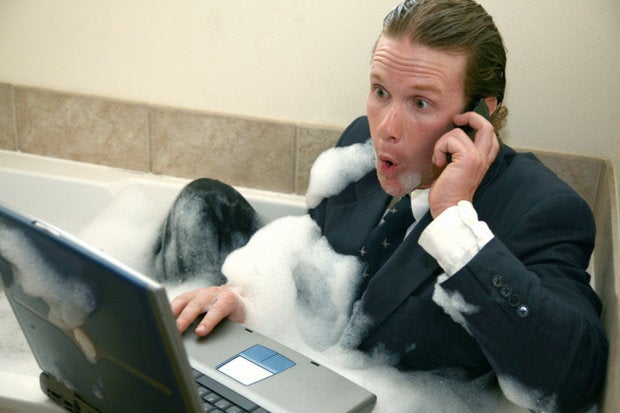 Credit: ThinkStock
Take on a new job that requires extensive travel? Looking to streamline things when you work at the office? This simple six-point guide will help you become a digital guerilla in no time at all whether you use the Windows, Mac, iOS or Android operating system.
Choose the Right Laptop
The bring your own device (BYOD) phenomenon means that end users increasingly make the final decision on their choice of laptops. While office-bound users may favor aesthetics, those who travel or otherwise work remotely may put more weight on work-friendly features.
With that in mind, here are some important travel-friendly features to consider if you want a new laptop.
The presence of a built-in fingerprint scanner makes it much easier to unlock a laptop. This increases security by ensuring the feasibility of aggressive timeouts that automatically lock an inactive laptop.
Meanwhile, a Kensington lock can secure devices against opportunistic thieves.
Fast-charge capability can recharge a laptop to 60 percent (or more) of its charge in as little as 30 minutes.
Look for "full day" battery life rated at eight hours or higher from the laptop's built-in batteries.
Also consider the capability to either swap out or tack on an external battery when more life is desired. (Other options for power are covered below.)
A matte screen provides more comfortable viewing in cafes, airports, hotel lobbies or other areas blanketed by harsh sunlight.
Laptops weighing fewer than 3 pounds (roughly 1.35 kg) offer better portability.
Pack Things to Go
Once you get a laptop, you need a bag to stow and protect your computer gear and only proper laptop bags offer adequate internal and external pockets to hold your various gadgets and electronic knickknacks. Bags such as the Moshi Urbana and Booq Cobra slim look classy, though there's no beating a backpack for storage capacity and comfort if you plan to do a lot of walking.
TSA-approved bags are useful when shuttling through airports, though their usefulness may be limited depending on where you travel; airports outside the U.S. will likely ask you to remove all electronic devices from bags anyway.
Though most good laptop bags should offer ample pockets and, the Grid-It organizer remains a good option to keep you organized (and sane). If you prefer something more normalized, Relief Pod and WaterField makes a number of high-quality pouches.
Privacy protectors are a necessity if you work at crowded locations. The idea is to stymie shoulder surfing so a hacker or busybody can't get ahold of private information when sitting next to or behind you. 3M makes some high-quality privacy filters, such as the Gold Privacy Filter, for common laptop models.