Robotic process automation: The new IT job killer?
Robotic process automation has higher-value IT tasks in its cross-hairs but could be the best antidote to outsourcing yet.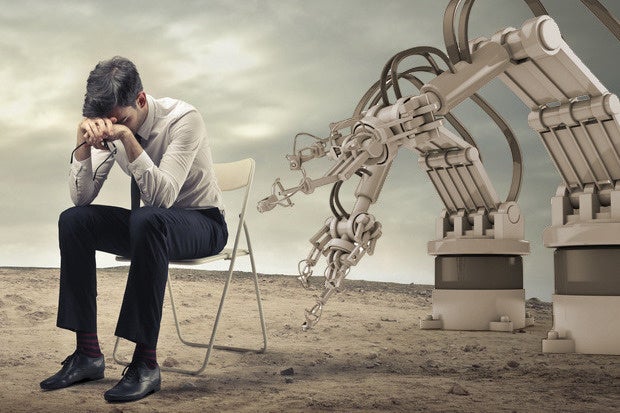 A quiet revolution with a potential impact on the IT workforce reminiscent of outsourcing may be under way in the form of robotic process automation.
Geared toward automating a variety of business and computing processes typically handled by humans, RPA will stir passions at organizations that deploy the technology, with its potential to slash jobs, shake up the relevant skills mix, and if implemented strategically, stave off the specter of outsourcing.
The reason: Thanks to advances in software and artificial intelligence, automation has its sights on higher-value tasks than ever before -- and it's already having an impact at organizations currently deploying these systems.
What exactly is robotic process automation?
At its core, RPA is "robotic" software that organizations configure to capture and interpret the actions of existing applications employed in various business processes. Once RPA software has been trained to understand specific processes, it can then automatically process transactions, manipulate data, trigger responses, and communicate with other systems as necessary. The technology is designed to reduce or eliminate the need for people to perform high-volume IT support, workflow, remote infrastructure, and back-office processes, such as those found in finance, accounting, supply chain management, customer service, and human resources.
RPA software is composed of multiple components. First, for collection, they employ a variety of tools for grabbing digital data, which can include screen scrapping, digital image recognition, or the ability to access a server or be linked to a website. They also make use of rules engines similar to those found in business process management tools.
"This is the basic requirement, that it works at the graphical user interface layer and doesn't need much, if any, IT support," says Cathy Tornbohm, vice president BPO (business process outsourcing) research at Gartner. "RPA tools can be built from combining tools that perform the various elements of these tasks."
On the one hand, RPA promises huge cost savings and the elimination of tedious tasks for IT infrastructure workers. On the other hand, it threatens the very survival of many of the jobs held by those same infrastructure workers.
This time around, automation is after more than manual data-entry positions.
Eating into IT jobs
Not long ago, RPA was "a total mystery" to most organizations, but its potential is now grabbing the attention of IT consulting and advisory firms, outsourcing providers, and enterprises alike, says Frank Casale, a longtime outsourcing expert and founder of the newly formed Institute for Robotic Process Automation (IRPA).
"This is a flash trend driven by a combination of really powerful process automation software and artificial intelligence, and following a lot of trial and error" by vendors in the market, Casale says.