Petition to remove Reddit CEO tops 200K signatures
What happened to Digg could 'easily' happen to Reddit.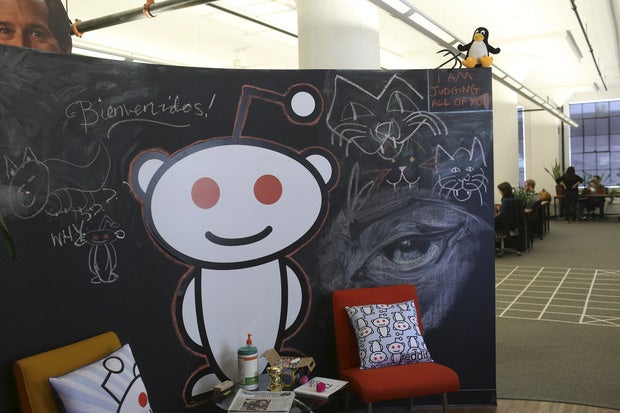 A Reddit mascot at the company's headquarters in San Francisco. Credit:Robert Galbraith/Reuters
An online petition calling for Reddit CEO Ellen Pao to be sacked now has more than 200,000 electronic signatures.
The protest began last week when hundreds of Reddit's popular sections, known as subreddits, were set to "private" by moderators, who oversee postings and comments. By changing the status to "private," the volunteer moderators essentially closed their subreddits to users.
The protest was kicked off by the firing of Victoria "chooter" Taylor, a paid employee hired in 2013 to oversee one of the most popular sections of Reddit, known as AMAs (ask me anything). AMAs have hosted online Q&As with celebrities, such as actor Bryan Cranston, and world leaders, such as Barack Obama. Yeah, the AMA subreddit also hosted a conversation with a man who had two penises.
Taylor, whose title was director of talent, was in charge of organizing online AMAs and was the go-between for moderators. Her firing literally left the moderators "in the lurch," they wrote in posts.
On Sunday, Pao apologized for her handling of Taylor's firing as well as for not doing more to help Reddit's all-volunteer moderators.
Pao told National Public Radio that Reddit is working on improving tools for moderators and is adding more paid staff to help out. She announced Kristine Fasnacht, Reddit's community manager, will take on the duty a liaison between moderators and staff.
One moderator described Taylor's dismissal as having "the rug pulled ripped out from under us" and having been "betrayed."
Taylor's dismissal, which has never been fully explained by Pao, was the last straw in a long line of complaints from moderators, most of which center on a lack of communication from Reddit's leadership.
If you've not visited Reddit or are not familiar with how it's run, the website's data center and staff are located in San Francisco but the website is mostly run by a large cadre of volunteers who oversee hundreds of subreddit sections that run the gammit from "worldnews" and "technology" to "memes" and "music."
Larry Chiagouris, a professor of marketing at Pace University's Lubin School of Business in New York, said while Pao may be a brilliant strategist, she has "never managed large groups of people before.
"The first thing she should have done upon becoming the head is to bring on someone who complements her skillset," Chiagouris said in an email reply to Computerworld. "Someone who can be the ombudsman and sensitive sounding board to the moderators and community members so that she could concentrate on strategy."
A sex discrimination lawsuit that Pao brought against former employer Kleiner Perkins Caufield & Byers may have also tainted the Reddit community's image of the executive, Chiagouris said. A jury found in favor of Kleiner Perkins, but Pao is appealing the decision.