New tech jobs in top demand in 2017
Virtual reality, augmented reality and cognitive computing engineers head the list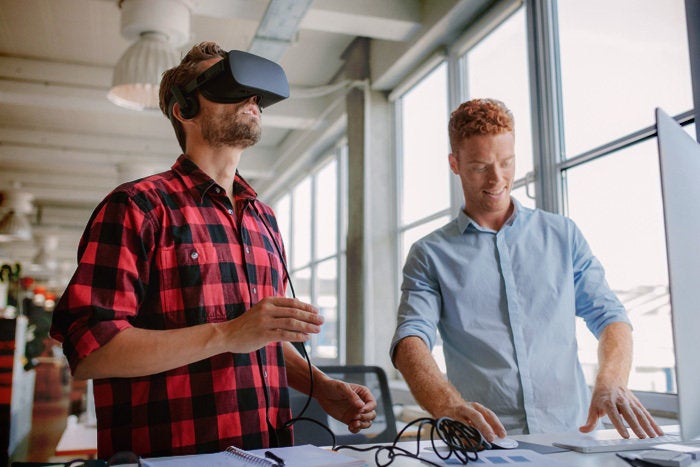 The technology sector isn't just expanding, it's exploding. Thanks to the development of new technologies like cognitive computing, virtual and augmented reality and the Internet of Things (IoT), the technology industry is experiencing massive job demand and growth.
According to the Bureau of Labor Statistics, the employment of tech and computer occupations is expected to grow 12% by 2024, greater than the average for allother occupations. Nearly 500,000 jobs are projected to be added from 2014 to 2024 in technology alone. Not only that, but the newest and most in-demand tech careers are netting some of the highest salaries we've ever seen.
Why? To put it simply, tech is the future. Companies understand that the only way to move forward, outperform competitors and remain innovative is to implement the latest technologies, offer the latest tech-driven products, and net the top tech talent in order to accomplish these goals.
Here's a look at the three newest tech jobs in demand for 2017 to help businesses better understand what tech talent they need to be hiring for:
* VR Engineer. Virtual reality (VR) is no longer a few years off. It's here, and it's not just for gaming. Tech-centered businesses hoping to capitalize on an industry that's expected to generate $30 billion in revenue by 2020 will need to hire VR Engineers to do so.
No longer solely relegated to the gaming sector, Virtual Reality Engineers are being sought out by everyone from Google and New York Times to startups like Lucid VR, which is a developer of 3D cameras. This is because this is one of the few roles that specializes solely on building and improving VR platforms or offerings for a business. Given the buzz surrounding the latest VR hardware, it's no surprise this relatively new tech role is already experiencing high demand from employers across various industries looking to cash in on the futuristic tech.
Professionals with experience developing VR platforms will continue to experience a drastic increase in demand for their skillset as VR hardware costs go down and the technology reaches widespread marketplace adoption.
* AR Engineer. Don't think VR is the only reality getting some attention. Augmented reality (AR) is another new development that is beginning to realize its full business potential. With a projection that AR will generate $120 billion in revenue by 2020, comapnies are looking for talent that will help them best utilize this tech. Which is where AR Engineers come in.
This role deals directly with developing software that integrates elements of the real world into various software programs. By hiring an AR Engineer, businesses can use AR to improve training efforts, product development, remote collaboration, and more. It also allows them the opportunity to provide customers with the AR-driven products they want, which was proven to be incredibly profitable by the success of Pokemon Go.