Millennials force CIOs to rethink tech, training processes
Millennials are pressuring companies to implement new training processes to acclimate these younger employees to new technologies.
Mentoring millennials in leadership roles is critical
While the type of technology and training investments Purdue Pharma and PwC are making might be difficult and costly for CIOs in the short term, they could pay huge dividends by empowering millennials to accelerate their companies' digital transformations. CEOs are urging CIOs to move at a breakneck pace to deliver new digital products, from mobile applications to analytics solutions that gauge how new services resonate with consumers. Employees equipped with the right tools – the technologies with which they are accustomed to working – tend to be the most productive and effective employees.
Yet CIOs can do more. Pollak says companies could do themselves a much bigger favor by creating "intrapreneurial," or early leadership opportunities for millennials, who have come to expect the new experiences.
In The Hartford's 2015 Millennial Leadership Survey, 60 percent of 797 millennials surveyed cited leadership training as the top training type they desired, followed by technical skills at 40 percent. "Leadership opportunities and rotational programs have been around for a long time but particularly with this generation they are very appealing because they want that variety and entrepreneurial experience within that corporate structure," Pollak says.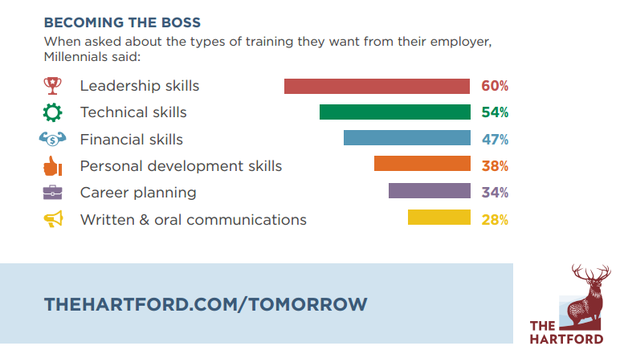 The Hartford's 2015 Millennial Leadership Survey reports on what's most important to Generation Y in the workplace.
Accommodating millennials is rapidly becoming part of the adapt-or-die ethos with which many companies have begun operating as they seek to stave off disruption. "Companies need to view millennials as an opportunity to win the future," Pollak says.