McAfee plans to be elected president in a landslide on the backs of 40 million tatooed voters
In an interview with CSO contributors Ira Winkler and Araceli Treu Gomes, the cybersecurity guru discusses why he wants someone literate in technology to run the country.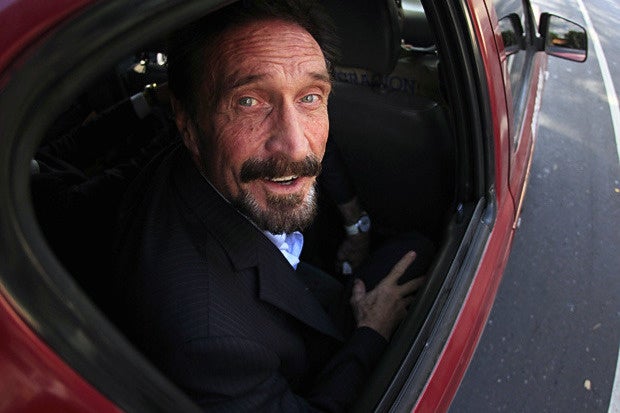 Software pioneer John McAfee is escorted by immigration officers to the Guatemalan Airport in Guatemala City December 12, 2012.Credit: REUTERS/Jorge Dan Lopez
It has been a whirlwind few years for John McAfee, the man noted for developing the first commercial anti-virus program. It was only a few years ago when rumors were frantically flying around in following an incredibly sensational story of McAfee as a murder suspect. With all of that seemingly behind him, he now turns his attention to taking up residency in the White House.
McAfee, 70, who founded the McAfee security brand, which was later sold to Intel in 2010, recently filed papers as a candidate for president as a member of the Cyber Party. McAfee's political views are likely to be viewed by many as out of the mainstream, and he believes that if the government is not working for the people, then the citizens have the right to abolish it. He believes that the government has gotten too big and unwieldy. He often cites how it would take 600 years to read all of the laws Congress has passed through the years.
In a video interview with McAfee, Ira Winkler and Araceli Treu Gomes talked to the candidate about his purely electronic campaign. His first matter of business is partnering to create a federal awareness app that would act as an aggregator for voters to receive 500-character messages each day from each candidate. He called it a "mini Twitter."
"I am using the technology I know best to facilitate becoming president," he said, adding that he recently had his platform tattooed on his chest. This would make him the first tattooed president, he claims. This will help get him elected because "inked people stick together."
McAfee said he feels as though what he is doing will go under the radar until election day and the world is going to be shocked when he is elected. "It will be landslide," he said. Right now voters are disenfranchised because "It's hard to go out and vote when your options are a case of food poisoning or the flu."
He wants to use that platform to debate the American people, not the other presidential candidates. "Why would I waste my time debating Donald Trump. He is not going to vote for me no matter what I say," McAfee said.
Some highlights of his policies include being pro choice and legalizing marijuana. He said in defending decriminalizing marijuana, "If you get addicted to heroine, that is its own punishment, I am sorry."
He would like the United States to stay out of the affairs of other countries, saying that being the world's policeman for the past 50 years has gotten the country hated by many. "Let the affairs of other countries sort themselves out."