How to tweak your benefits package to find and retain talent
New research from the Society for Human Resource Management finds healthcare, retirement, paid leave and flexible work options are most important to employees.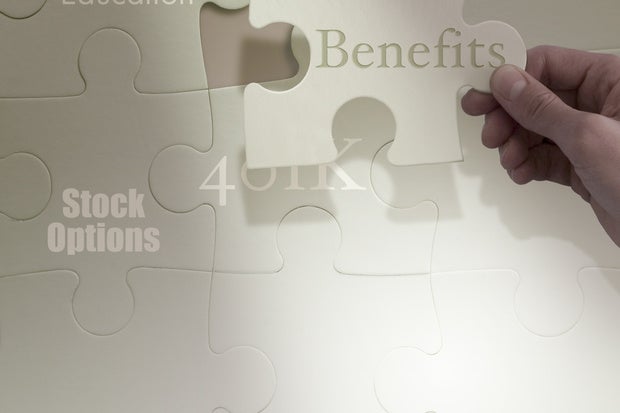 In today's competitive war for talent, employers are using substantial benefits packages to give them an edge when recruiting and retaining talent, according a Society for Human Resource Management (SHRM) survey report.
The report, which surveyed 738 randomly selected HR professionals, showed that 95 percent rated healthcare as one of the three most important benefits to employees; 71 percent say retirement savings and planning are top-rated employee benefits and 50 percent say leave is an important benefit.
And while 19 percent of respondents in all industries say they had altered their benefits programs to aid in employee retention over the last 12 month, that number increases to 25 percent when focused exclusively on the IT industry, according to the report.
High value
"Healthcare, retirement and leave benefits are all highly valued by employees, so bolstering these benefits could go a long way in recruiting new employees and retaining existing ones. These benefits often are rated on par or of even greater importance than compensation," says Evren Esen, director of data analytics, SHRM.
That could be because of the relative scarcity of raises; employees are looking at modest increases year-over-year, and might prefer a beefed-up benefits package instead, says Brian Kropp, HR practice leader at CEB.
"Many employees in the U.S. are expecting raises of 1 percent or 1.5 percent this year, which doesn't make much of a difference in terms of performance or retention. So, companies are doing two things: first, rethinking compensation structures like doing away with annual raises, introducing spot bonuses or even allowing workers to make choices about how they're compensated; whether through stock options or a bonus. Second, they are exploring different benefits packages. Many are increasing parental leave, for example, or adding more flexible work arrangements. The belief is that these benefits will have a bigger impact than small raises," Kropp says.
Major investment
Benefits are an area in which employers make significant investments; often the value of a benefits package can add about 30 percent more value to an employee's compensation, Esen says. But that's something many workers don't understand as well as they should, and it's up to HR pros to help them understand the value of these offerings, she says.
"As the war for talent wages on, employers will need not only to ensure that they are strategically utilizing benefits to secure talent, but that employees understand the value of their benefits package," Esen says. According to the research, just 14 percent of HR professionals indicated that employees are "very knowledgeable" about employer-sponsored benefits; about two-thirds (69 percent) said employees are "somewhat knowledgeable." And just 27 percent of respondents indicated their focus was ensuring employees understood the value of their benefits package.