How many H-1B workers are female? U.S. won't say
Government resistance to releasing H-1B gender data frustrates advocates.
Gender data is a curious omission considering U.S. government initiatives such as TechWomen, which is aimed at supporting "women in leaders in science, technology, engineering and mathematics (STEM) from Africa, Central Asia and the Middle East". And, there's also the Office of Science and Technology Policy's stated aim of "increasing the participation of women and girls -- as well as other underrepresented groups -- in the fields of science, technology, engineering and mathematics."
Computerworld filed a FOIA request for H-1B gender data last year and was told that providing such information would be "unreasonably burdensome."
"In order to determine the gender of H-1B applicants, USCIS staff would have to manually search each applicant's immigration file, an unreasonably burdensome and costly requirement because it would require agency personnel to request, ship and manually review thousands of immigration files," wrote Alan D. Hughes, associate counsel at the Commercial and Administration Law Division of the Department of Homeland Security Citizenship and Immigration Services in denying Computerworld's appeal to receive gender data.
In other words: The government chooses to keep track of applicants' country of origin but not their gender.
There is some data available that can indirectly point to what's going on.
China and India, in particular, seem more successful at encouraging women to enter technical fields. IEEE research has found that nearly 40% of India's engineering and technology students are women. But this likely does not represent the proportion of H-1B workers.
The U.S. Employment Opportunity Commission (EEOC) is one federal source of data about gender in the workplace. Its information is not publicly available, but can be used in court cases. The EEOC data for Infosys, an India-based IT service firm, was released last year in an ongoing discrimination case the company is fighting in federal court.
The proportion of women in the Infosys U.S. workforce was 22.5%, according to the court documents. That's lower than the percent of women in the overall U.S. tech workforce, but not by very much.
The percent of women among Infosys's Asian workers was still lower, at 19.7%. However, this data doesn't necessarily show that Infosys H-1Bs skew more male than the overall profession, because IT is a broad category with a number of specialty areas that likely have considerably different gender distributions.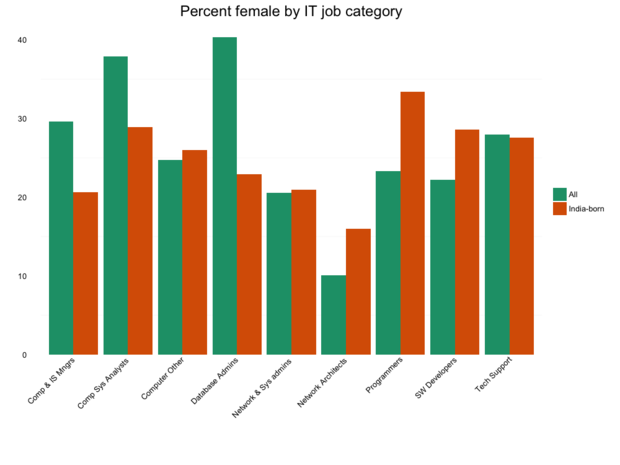 Computerworld analysis of US Census Bureau 5-year American Community Survey data, 2010-2014, for job categories with at least a sample size of 150 among India-born. India-born includes immigrants and green-card holders as well as H-1B visa holders.
The limited data available about foreign-born IT workers shows a somewhat mixed picture.