How bad a boss is Linus Torvalds?
It depends on context. In the world of software development, he's what passes for normal. The question is whether that situation should be allowed to continue.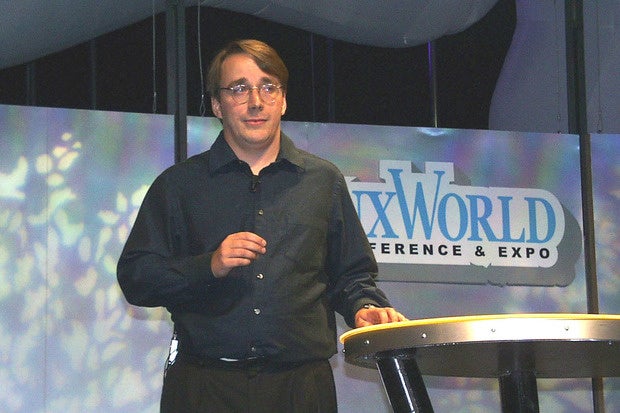 Linus Torvalds addressed a packed auditorium of Linux enthusiasts during his speech at the LinuxWorld show in San Jose, California, on August 10, 1999. Credit: James Niccolai
I've known Linus Torvalds, Linux's inventor, for over 20 years. We're not chums, but we like each other.
Lately, Torvalds has been getting a lot of flack for his management style. Linus doesn't suffer fools gladly. He has one way of judging people in his business of developing the Linux kernel: How good is your code?
Nothing else matters. As Torvalds said earlier this year at the Linux.conf.au Conference, "I'm not a nice person, and I don't care about you. I care about the technology and the kernel — that's what's important to me."
Now, I can deal with that kind of person. If you can't, you should avoid the Linux kernel community, where you'll find a lot of this kind of meritocratic thinking. Which is not to say that I think everything in Linuxland is hunky-dory and should be impervious to calls for change. A meritocracy I can live with; a bastion of male dominance where women are subjected to scorn and disrespect is a problem.
That's why I see the recent brouhaha about Torvalds' management style — or more accurately, his total indifference to the personal side of management — as nothing more than standard operating procedure in the world of software development. And at the same time, I see another instance that has come to light as evidence of a need for things to really change.
The first situation arose with the release of Linux 4.3, when Torvalds used the Linux Kernel Mailing List to tear into a developer who had inserted some networking code that Torvalds thought was — well, let's say "crappy." "[A]nd it generates [crappy] code. It looks bad, and there's no reason for it." He goes on in this vein for quite a while. Besides the word "crap" and its earthier synonym, he uses the word "idiotic" pretty often.
Here's the thing, though. He's right. I read the code. It's badly written and it does indeed seem to have been designed to use the new "overflow_usub()" function just for the sake of using it.
Now, some people see this diatribe as evidence that Torvalds is a bad-tempered bully. I see a perfectionist who, within his field, doesn't put up with crap.
Many people have told me that this is not how professional programmers should act. People, have you ever worked with top developers? That's exactly how they act, at Apple, Microsoft, Oracle and everywhere else I've known them.
I've heard Steve Jobs rip a developer to pieces. I've cringed while a senior Oracle developer lead tore into a room of new programmers like a piranha through goldfish.