Hiring good tech people: Where to start?
Innovation Unconference attendees share ideas on solving the tech hiring puzzle.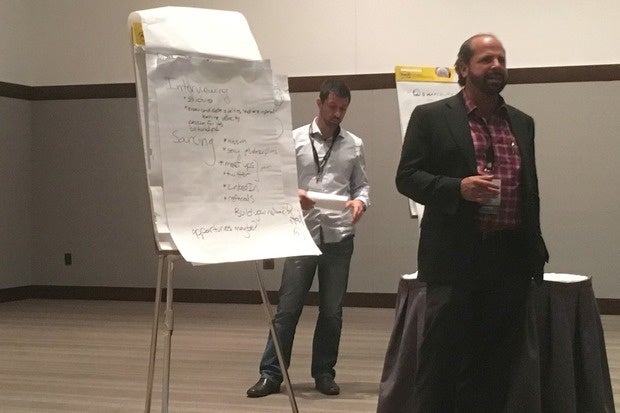 Orchid Technologies' Paul Nickelsberg sums up findings from discussion on hiring good tech people, at MassTLC's Innovation Unconference in Boston Credit: Bob Brown, NetworkWorld
Paul Nickelsberg told a room full of attendees at this week's Innovation Unconference in Boston that he's on the prowl for good tech people to add to his firm's electronic product design team.
"Just good?" inquired one of the session's facilitators.
Nickelsberg, president of Orchid Technologies Engineering & Consulting in Maynard, Mass., said he certainly wouldn't turn away excellent talent -- "but I'll take good."
Such is the state of hiring for talented techies these days at least in New England, where firms such as Nickelsberg's are challenged to find fresh talent that is open to working in the 'burbs rather than in Boston or bustling Cambridge (though he's intrigued by the idea of opening a satellite office in a hip location).
Speaking up about hiring challenges during one session at the conference earned Nickelsberg the duty of actually moderating a follow-up breakout session on the topic. As the Unconference's name implies, this is not your typical industry get-together. Attendees suggest and vote on session topics on the fly at this (interpersonal) networking-heavy confab orchestrated by the Massachusetts Technology Leadership Council (other sessions focused on topics such as microservices and the Internet of Things).
The session on how to hire good tech people that Nickelsberg moderated proved to be a lively one, as participants chimed in on what it takes to hire people who fit into an employer's culture and who have the technical chops to contribute.
Nickelsberg kicked off the discussion by citing a scene from the movie The Social Network featuring a booze-fueled code-off, hoping that wasn't the best way to try to find the sort of talent his team could use to grow.
"The problems we're trying to solve are pretty difficult," he said. "Making the wrong hiring choice can really be a disaster." He added that with a staff as small as his, "the next person hired is a major contributor."
One MassTLC representative cited a hiring practice at another Massachusetts firm, MathWorks. She said the company is known for seeking out engineers who aren't necessarily the entrepreneurial types from MIT or Harvard who are always looking to move on to their own startup. "They look for hires who will be loyal to them," she said.
A key to finding good talent is making sure your job description is precise, so that you don't waste your time or prospects' time, said one participant. "Your job description better reflect on what they'll actually work on," he said.