Could Detroit become the next Silicon Valley?
Detroit might not be the first place that comes to mind when you think of technology, but that's changing. Amazon recently announced plans to build corporate offices in downtown Detroit to help an already fast-growing tech industry in the Motor City.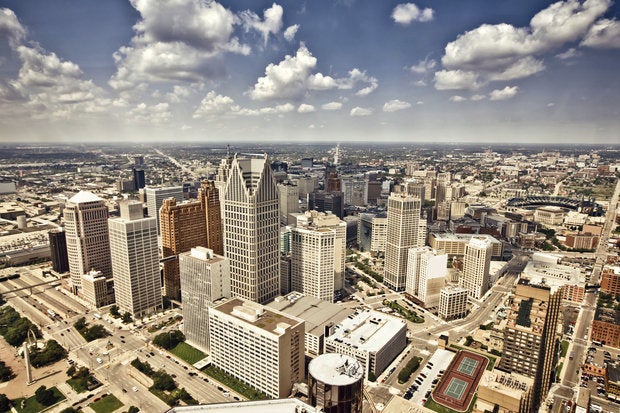 When you think of the hub of technology, Silicon Valley probably comes to mind. But that's slowly changing, as more cities across the country become fast-growing technology hubs. And now, with Amazon's recent announcement that it plans to expand corporate offices to Detroit in 2016, the Motor City is poised to the next hot spot for tech.
"We have a long-term plan to grow our presence in the great state of Michigan, and bring more full-time, high-tech jobs to the city of Detroit," said Peter Faricy, vice president for Amazon Marketplace, in a press release released by the company. "We are focused on hiring in the state and look forward to being a part of the community, professionally and personally. Michigan is a rapidly growing technology corridor and we're eager to bring the incredible local Detroit talent to Amazon."
And that's welcomed news for city that recently made headlines for financial issues, especially after General Motors and Chrysler filed Chapter 11 during the recession. But as of September 2015, the Bureau of Labor Statistics reports that the unemployment rate in the Detroit area is slowly decreasing, with a reported 5.6 percent unemployment rate, which is only slightly above the national average of 5.1 percent. And tech companies like Amazon are getting in on the ground floor.
Tech is a growing industry
Currently, 7.1 percent of the U.S. economy comes from the tech industry, according to the Cyberstates 2015 report from CompTIA, and that number is only expected to grow, with an 11.3 percent rise in tech job openings from Q4 2013 to Q4 2014. And it's a profitable industry for workers, considering that in 2014, the average nationwide salary for the tech industry came in at just over $100,000, while public sector employees made an average of $49,000. Software jobs earned the highest average salary, at $132,600, followed by tech manufacturing at $102,700. IT services and telecommunications and Internet service weren't far behind, with average salaries of $99,000 and $96,000 per year, respectively.
Compared to the 7.1 percent of jobs in the tech industry nationwide, just 3.9 percent of Michigan's economy came from the tech industry, according to CompTIA and data from the Bureau of Labor Statistics. In Michigan, the average wage for workers in the tech industry was $82,190 and the state ranked 12th for tech employment and 22nd for average tech wage.
Downtown revitalization
Amazon announced plans at the end of September to help continue this growth by creating a center of technology in downtown Detroit. The tech giant plans to build a corporate office to bring more full-time technology jobs to Michigan. And as a friendly introduction to the city, Amazon donated 30 Amazon Fire tablets to the Carver STEM academy program in the Detroit Public Schools, as well as $10,000.