Career Sushi hands-on: job site lets millennials showcase their personal brands
Career Sushi helps young creatives build a non-traditional, media-centric resume that presents more like an artist's portfolio or a social media page.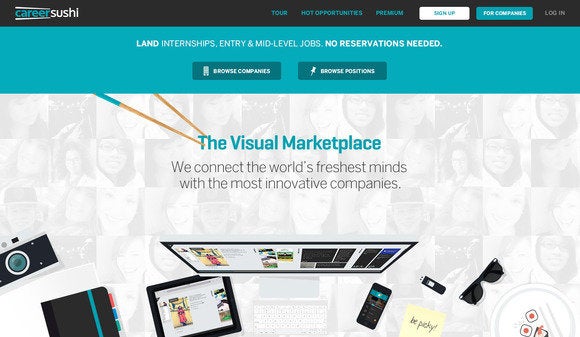 Today's 20-somethings don't use LinkedIn. The complex career social network has little to offer them, especially if they lack experience—or at least, that's what Shara Senderoff, founder of Career Sushi, believes.
"If you're looking for an internship or an entry-level position, LinkedIn can't really help you," Senderoff explains. "It's great for growing your professional relationships, but what if you don't have any professional relationships?"
Well, if we 20-somethings can't turn to LinkedIn to root out job opportunities, either because they don't exist or because we can't stand out among more qualified candidates, where can we turn? That's the gap Senderoff's new website, Career Sushi—part job board, part portfolio/resume, and part social network—aims to fill.
The non-traditional resume
Career Sushi helps young creatives build a non-traditional, media-centric resume that presents more like an artist's portfolio or a social media page. A Career Sushi profile has eight sections, in addition to the main overview: education, experience, skills, honors, references, interests, badges, and seeking.
Senderoff says that the interests section is particularly popular with hiring managers who want to make real connections with candidates. It gives job seekers a showcase for their personality that resume-oriented sites don't, and, done well, it can make a person stand out among a horde of candidates with similar skill sets.
In the honors section, users can add images and descriptions of any accolades they have received, and in the references section they can add quotes, images, or videos from people who have recommended them. Unlike LinkedIn's references section, Career Sushi's references are entirely edited by the job seeker, not the referrers. At the bottom of each Career Sushi profile is a summary that companies and other users can click on to see a quick overview of the candidate's qualifications.
Overall, Career Sushi makes a pretty good-looking professional profile that can also be shared with people outside of the site. It's not as streamlined as LinkedIn's more traditional resume format, but its emphasis on visuals and word clouds will appeal to younger users.
Connecting with companies
Career Sushi also features profiles of hiring companies, so the users can get better insight into organizations they're interested in. These profiles include a "Company Attributes" section, which features a word cloud of terms the company associates with its brand. For example, BCBG MAXAZRIA's attributes include "fashion," "design," and "dresses," of course, as well as "professional," "bon chic," and "innovative."
Company profiles also include an "Office & Culture" tab where companies can pull back the curtain on their workplace. Most companies use the opportunity to show pictures of their office space and staff members, which visually address concerns millennials have, about things like dress code and office design. Since younger workers are usually looking for cool, creative office spaces and other perks, this is a great place for businesses to show off what they're doing to attract them. Career Sushi is the first career site I've seen that asks companies to create a profile that's as eye-catching and detailed as the job-seekers' profiles.