Biggest tech industry layoffs of 2015, so far
Microsoft, BlackBerry, NetApp among those trimming workforces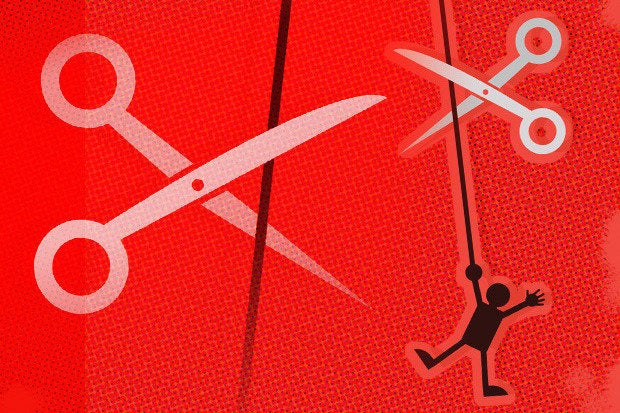 While the United States unemployment rate has hit a post-recession low, the network and computing industry has not been without significant layoffs so far in 2015.
Some companies' workforce reductions are tricky to calculate, as layoff plans announced by the likes of HP in recent years have been spread across multiple years. But here's a rundown of this year's big layoffs either formally announced or widely reported on.
*Good Technology: The secure mobile technology company, in prepping to go public in the near future, laid off more than 100 people late last year or early this year according to reports in January by Techcrunch and others. Privately-held Good, which employs more than 1,100 people according to its listing on LinkedIn, doesn't comment on such actions. Though the company did say in an amended IPO filing in March that it would need to slash jobs this fiscal year if certain funding doesn't come through. Good also showed improved financials, in terms of growing revenue and reduced losses, in that filing. Meanwhile, the company continues its business momentum with deals such as an extended global reseller agreement announced with Samsung Electronics America in June.
*Sony:Reuters and others reported in January that Sony would be cutting around 1,000 jobs as a result of its smartphone division's struggles. The Wall Street Journal in March wrote that Sony was clipping 2,000 of its 7,000 mobile unit workers as it attempts to eke out a profit and refocus, possibly on software, to fare better vs. Apple and other market leaders. Sony's mobile business, despite solid reviews for its Xperia line of handsets, is nearly nonexistent in big markets such as the United States and China, according to the WSJ report. Still, the company's president says Sony will never exit the market.
*Citrix:The company's 900 job cuts, announced in January along with a restructuring and improved revenue, were described by one analyst as "defensive layoffs" made in view of some disconcerting macro economic indicators, such as lower oil prices and a strengthening dollar. The virtu company said its restructuring, including layoffs of 700 full-time employees and 200 contractors, would save it $90 million to $100 million per year as it battles VMware, Microsoft and others in the virtualization and cloud markets.
*NetApp: The company announced in May, while revealing disappointing financial results, that it would be laying off 500 people, or about 4% of its workforce. It's the third straight year that the storage company has had workforce reductions, and industry watchers are increasingly down on NetApp . The company has been expanding its cloud offerings but has also been challenged by customers' moves to the cloud and the emergence of new hyperconvergence players attacking its turf.