6 tips to avoid job search depression
Searching for a new job is a tiring and depressing process. Here's how to avoid letting your job search drag you down.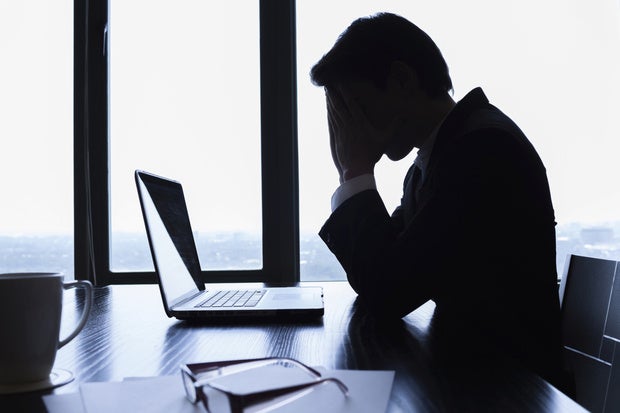 Searching for a new job can be a full-time job, It's a thankless, tiring -- and, yes, depressing task. Searching for roles, filling out applications, networking, tailoring endless versions of your resume to each potential job, interviewing, handling rejections -- the entire process can be so overwhelming and can leave you feeling unwanted, dejected and sad.
"It's understandable; with the loss of a job, many people feel like they've lost control. And, in many cases, they've lost something that they loved, that gave them some fulfillment and purpose, and that can interfere with self-esteem and confidence. Searching for a job is also a very solitary process, so on top of that, there's the potential for isolation," says Mary Cavanaugh, vice president and senior career management consultant with Keystone Associates.
Be patient
Staying emotionally healthy during such a turbulent time requires patience, positivity and stamina, Cavanaugh says.
"I tell my clients, first and foremost, to have patience with the process and make sure your expectations are realistic. Your entire professional life right now is focused on finding a new job, but the recruiters, hiring managers, people in your network -- they aren't on the same timeline you are. Try to strike the balance between timely follow-up and constant pestering, because you can risk alienating people," she says.
Completing a successful job search takes focus, persistence and a lot of hard work, says Jamie Chafel, recruiter for the technology search division of WinterWyman. "Find ways to get into a routine and hold yourself accountable to it, whether that means allotting every Tuesday night to attend a networking event or getting up early on Saturdays to search for new leads and send out résumés," Chafel says.
The power of positive thinking
Try and stay positive as much as possible, Cavanaugh says, and remember to maintain a good balance between work and life, just as you would with any other full-time job. Regular exercise, volunteer work, spending quality time with friends and family in addition to networking and making career connections can help keep your spirits up, she says.
Get Networking
"Make sure you're networking and building relationships. And, remember, not to generalize, but so many of the programmer-types and engineering/IT folks have more introverted, quiet and more reserved personalities, so the networking piece of the puzzle and the personal interaction piece is difficult. That can lead to them feeling discouraged -- I recommend starting with your 'warm circle' of 'friendlies' first and working outward from there to build up confidence," she says.
Networking doesn't always have to happen in a strictly professional setting, either. The connections you make by getting immersed in groups can be invaluable to your career. Find a trade association, meet-up group, fan club or online discussion forum that overlaps with your hobbies, interests or your career and get involved; or try talking to your teammates or friends who might have connections you can leverage to find a new role. "Try attending an event or two from several different groups and determine which will be most beneficial before you commit to just one," Chafel says.