5 video interviewing platforms put candidates on camera to help you hire your next star
Market your job opening, pre-screen prospects, and interview applicants more efficiently with these tools.
Now that webcams bring video capability to anyone with a computer, the in-person interview may soon go the way of the fax machine. Several online services offer tools to use live and recorded video for prescreening candidates and for conducting job interviews. In the time you'd normally spend doing one in-person interview, you can appraise, rate, and cull a slew of prospects.
Here are five video interviewing platforms to help you find your next superstar employee.
Interview4

Hire-Intelligence's video platform, Interview4, lets you conduct either live, recordable interviews, or virtual ones, in which candidates sign onto the platform at their convenience and record video responses to questions that you've entered into the system. You can configure the questions so that candidates get only one chance to answer, or you can let them record a response as many times as they wish. The platform also offers branding and customization features, such as the option to let hiring-team members rate a candidate.
The service runs about $15 per interview, but Hire-Intelligence offers volume discounts depending on usage. According to Hire-Intelligence cofounder Jim Robinson, enterprises can pay $10,000 per month, while small businesses can buy a bundle of interviews for hundreds of dollars.
"Larger companies are hiring all the time. Smaller companies hire intermittently, so it's a whole different dynamic in terms of how they approach it and what they have to do to hire people. We try to accommodate both those scenarios," Robinson says.
To see what the service is like from a candidate's perspective, go to Interview4.me, where you can play around with the tool and practice answering common interview questions.
Montage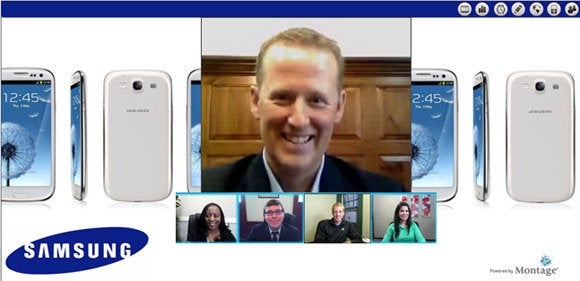 This stand-alone video interviewing platform offers both live and on-demand video interviewing, and can be integrated with applicant tracking software. It's used by large organizations such as Disney and Samsung, as well as by executive search firms and other small companies.
Montage Interview lets users conduct live, one-on-one or panel interviews. According to Montage president and CEO Kurt Heikkinen, Montage Interview uses 80 percent less bandwidth than Skype and can accommodate an unlimited number of participants in a meeting.
Montage View lets candidates record responses to interview questions on their own schedule. The employer can configure each question to give candidates a varying number of opportunities to rerecord--with, say, unlimited chances to rerecord responses to some questions but no rerecording on others. You can also brand the experience with a private-labeled online "foyer," where you can show prospects a welcoming video and offer them information about the job and your company.