Which browser is best for battery life: We test Edge vs. Chrome vs. Opera vs. Firefox
In this power struggle, the answer is not what you'd think.
As Firefox and Opera do not include Flash support by default, I installed the Adobe Flash plugin for both. All the browsers were running Flash 21.0.0. The only 64-bit browser was Microsoft's Edge. The rest were all the 32-bit versions, which is the default browser of choice even if you're running a 64-bit OS.
The results
This is a lot of lead up to something that's a little anticlimactic. My testing with a "light" browser load shows that Microsoft makes the most power-efficient browser, and the most power-inefficient one.
Yes, Microsoft's Edge 13.1 browser was clearly the winner here. I hit 385 minutes with the Edge browser, which is almost an hour more than Internet Explorer 11 lasted in browsing.
Google's much-maligned Chrome (which has a reputation for being a power hog) pulled into second place with about half an hour less battery life than Edge. Firefox was just about as bad as Internet Explorer, and Opera was on par with Chrome.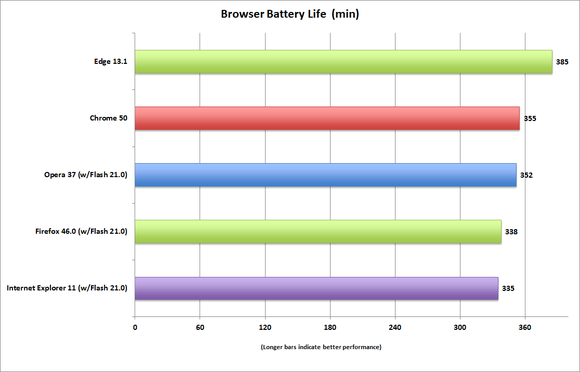 Under a light browsing load with some Flash content, Microsoft offers the best and the worst browser for battery life.
Disappointed?
The thing is, you were probably expecting far more dramatic results. Kinda like Microsoft's own test that it released this week. If you didn't catch it, Microsoft testers browsed various websites (on the open Internet apparently) while looking at the power consumption so the testers could measure power consumption. Microsoft's tests—conducted on the open internet apparently, and using a special instrumented Surface Book—showed from 36 percent to 53 percent better battery life over the competition when browsing in Edge. In a video test, Edge edged out Opera's new power-saving mode by 17 percent, bested Firefox by 43 percent, and Chrome by a whopping 70 percent.
The company also showed all four browsers running a streamed video until they tapped out with Edge again taking the lead.
Microsoft further showed telemetry from "millions" of Windows 10 machines that it has captured, which supports its results (umm, does anyone else think it's creepy that your OS is dutifully reporting anonymous telemetry data to be used for marketing purposes?).
I don't actually doubt Microsoft's numbers. In fact, they reinforce my own personal experience using various browsers. Chrome "seems" to cause the battery to plummet, while Edge "seems" to sip power during use.
But that's just my anecdotal experience and without the ability to measure it reliably, I'll just leave it at that. And to be perfectly honest, I still use Chrome, except when I'm really trying to maximize battery life. Then I switch to Edge.
Previous Page 1 2 3 4 Next Page