In defense of old Mac software
Plenty of older software is good enough, smart enough, and gosh darn it, still works. A writer keeps his old tools sharp.
This vendor-written piece has been edited by Executive Networks Media to eliminate product promotion, but readers should note it will likely favour the submitter's approach.
In some ways, you wouldn't suspect me of being out of date. I've got an iPhone 6s, a one-port MacBook, and an iPad Pro, and I spend my days typing at a walking desk—a standing desk with a treadmill underneath. (No man bun, though. Sorry.)
Scratch the surface, and I'm a man out of time. My email program doesn't display HTML and doesn't support IMAP. My personal finance program has "2007" in its name. When I need to muck about with CSS for a Web page, I fire up software left behind years ago by its developer. And my favorite new iOS app is the one-bit photography program BitCam.
It's not that I'm into artisanally handcrafted 1s and 0s, though—it's that nothing has appeared that provides the specific functionality I want, much less paired with improvements. I'm not alone. When I consult other long-time Mac users, I get a list of software to which they cling, some of which continues to receive compatibility updates, but is otherwise frozen with features from several years to a decade ago.
I have three programs I use extensively, one of them constantly, that are frozen in time: one for email, one for finances, and one for Web-page style editing.
That's not rich text, Rich
A number of years ago, I was on a large ship full of Mac enthusiasts as part of the first Mac Mania cruise. Rich Siegel, head of Bare Bones software, heard of my frustration related to email clients and introduced me to Mailsmith made by his firm. I wanted to escape Eudora, which I'd used for many years and which was still under active development, but had become creaky and out of date. Mailsmith had a lot in common with Eudora, but was even simpler.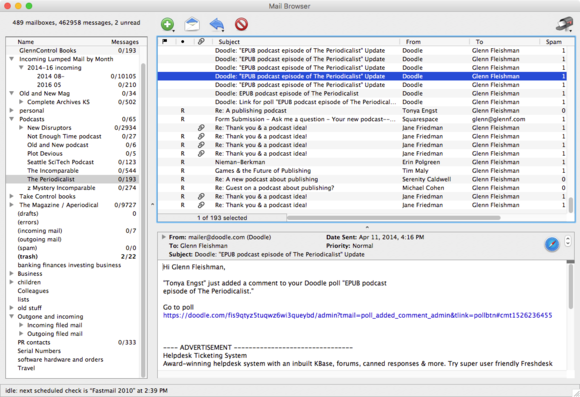 Mailsmith shows only the text of emails. Click the Safari icon, and the HTML attachment opens in a browser.
It's text only—it doesn't display rich text or the HTML formatting of a message. It doesn't support threading messages. It only handles POP for retrieving messages, not IMAP. Its built-in search engine, while powerful, uses its own, slow index format instead of leaning on Spotlight. (Messages can be searched via Spotlight, but not previewed.)
And I couldn't love it more.
I avoided HTML email for the longest time, because of a combination of poorly-formatted messages and tracking codes (single-pixel GIFs and other images) used to determine whether a message had been opened or not. HTML messages can also be a vector on some platforms for malware—by avoiding rendering and using a relatively obscure client, I felt I avoided being a target. (Mail software eventually got smarter about options for auto-loading images and previewing attachments, too.)