iClever Backlit Foldable Keyboard review: This portable keyboard is a cut above its peers
This peripheral is worth traveling with.
This vendor-written piece has been edited by Executive Networks Media to eliminate product promotion, but readers should note it will likely favour the submitter's approach.
Of all the folding keyboards I've reviewed so far, the iClever Backlit Foldable Keyboard stands out as the best.
Others that I've evaluated all sacrifice usability in the name of portability, but not this one. Priced at $55, the iClever Backlit Foldable Keyboard's a little more expensive than the majority of its rivals, but if you're looking for a compact, folding keyboard that you'll actually want to type on, it's worth every penny.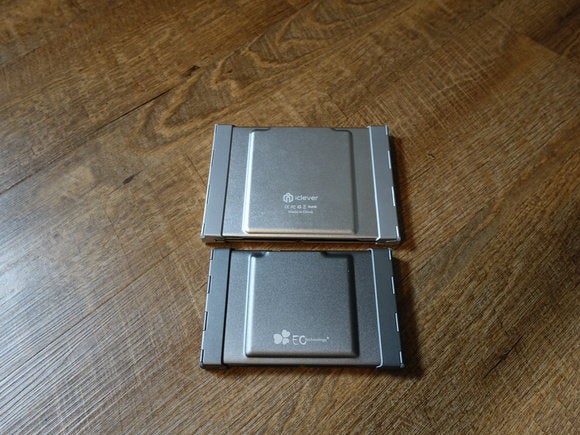 Design
The iClever mirrors the design of the Jorno and EC Tech-style keyboards, from the outer shells made from anodized aluminum all the way down to how the hinges work. But where you get a keyboard that's about 80% of the size of a regular desktop keyboard from the Jorno or EC Tech hardware, the iClever provides what appears to be a full-sized keyboard.
Yes, the iClever is heftier and bulkier as a result. It weighs 14.4 ounces, and measures 11.46 x 4.61 x 0.32 inches when opened for use. Folded up, the iClever's size reduces to 6.54 x 4.72 x 0.58 inches. That extra weight and space pay dividends when the time comes to do some typing, though: The iClever has keys that are nearly the same size and have nearly the same amount of space between them as on a late-model MacBook Pro. After spending considerable time with the iClever's overly shrunken or poorly laid-out rivals, using this larger keyboard felt absolutely liberating.
Performance
This keyboard pairs with Android and iOS devices without any issues, as well as Macs and Windows machines. Once connected, I could type at full speed with the same accuracy as on my laptop's keyboard, even while touch-typing. The function keys at the top of the keyboard are well-sized too, with dedicated keys for music control, volume, search, and a number of tablet-related shortcuts.
What's more, the keyboard's designers solved a problem that both the Jorno and EC Tech keyboard suffer from: No matter how hard you hit a key on the outside edge of the keyboard, the iClever won't tip. A small, folding leg on each end of the keyboard keeps it stable.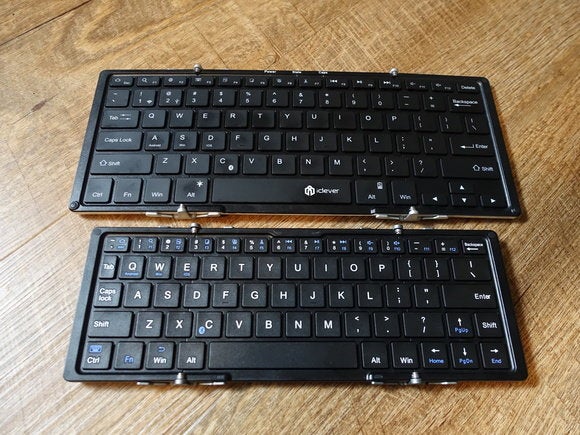 I found the key travel to be just as satisfying as with the Jorno and EC Tech hardware. However, I must admit that the plastic that the keys are made from don't feel as high-quality. This difference could be a result of the keys' backlighting—they're hollowed out so that the light can shine through.