Ho ho no! While you shop this season, beacons will spam you
Marketers have found a new channel to abuse, but it doesn't have to be this way
In the iOS world, you need an app for iBeacons to work with. The app is the conduit for the information exchange, as the exchange happens over the Internet, with the beacon triggering the exchange when detected via Bluetooth. The beacon also provides its location, so the app knows what you are and what context you're in. The app need not be running -- the iBeacons protocol in iOS will open or waken the app if needed.
What that all means is that retailers can be smart about how they use beacons. Many will simply spam you with "special offers" when you enter their premises. Others will be more subtle, welcoming you to the store and reminding you that their app can help you as you peruse the store.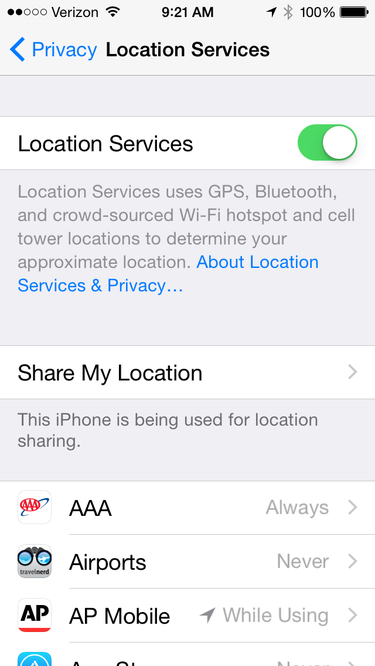 iOS 8's location privacy settings on an iPhone
Apps should have several levels of opt-in beacons interaction, typically:
Kiosk level enables the app to interact with beacons at the user's initiation. For example, you might initiate the app when in the men's section to get a floor plan for that area, or the ability to see what's out of stock but available for online purchase.
Guidance level enables the app to proactively guide you based on, say, your shopping list stored in the app once you've entered the store. Walmart has piloted this approach, for example.
Promotion level enables active promotions when in or near the store -- the "special offers," coupons, and so forth that marketers focus on. Certainly, there are shopaholics who will love these promotions, and they should able to get them, but not at everyone else's expense.
The key is in understanding that there should be several levels of interaction for different kinds of customers -- and letting customers manage that. Some apps do that today; Walgreens is an example, though it makes you opt out rather than in.
If beacon-triggered apps focus on only mobile promotion spam or turn that on automatically in an opt-out approach, many customers will simply turn off location services for the app, killing the beacons opportunity that retailers seek. Remember: Apple's iOS makes it (correctly) easy for customers to do so, via its Settings app's Privacy pane.
Marketers love to talk about using customer information to create a better user experience. Many don't really mean that, of course -- but they should. By using beacons wisely, they could put their deployments where their mouths are.
I believe they'll be pleasantly surprised by how customers react.
Source: InfoWorld