Ho ho no! While you shop this season, beacons will spam you
Marketers have found a new channel to abuse, but it doesn't have to be this way
Bluetooth Low Energy beacons are a wonderful technology that hold much promise and can make our daily lives easier. When Apple debuted its iBeacons technology more than a year ago, I saw beacons as a quiet revolution in the making.
But now come the marketers, determined to turn it into a spam engine that could derail beacons' adoption. This year, the first broad use of beacons in stores such as Macy's and GameStop has arrived, in time for Christmas. Actually, Christmas is the target, with marketers hoping to blast us with coupons and come-ons as we shop in physical stores this high-buying season.
Retail stores aren't alone in hoping to spam you as you enter their premises. A company called GuestDriven plans to deploy beacons in independent hotels so that guests "receive a welcome message when they walk through the doors, a special offer to upgrade to a suite upon arrival, or a message with in-room food options for guests checking in past dinner time."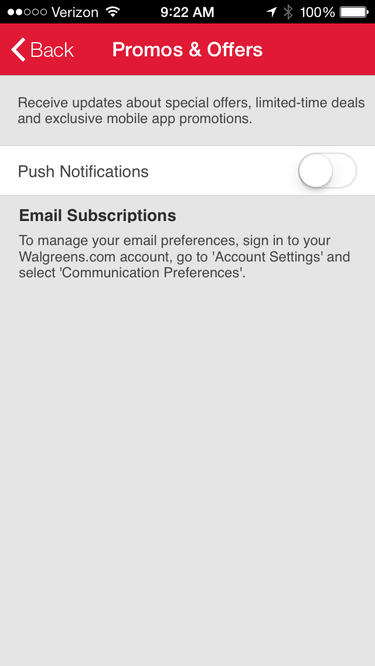 The Walgreens iOS app's notifications on an iPhone has several settings for the kind of in-store messages that maybe sent via beacons triggers.
Various stores have been piloting beacons for a while. Coca-Cola, for example, used beacons in parking lots at World Cup venues in Brazil to send mobile ads directing people to the nearest Coke machine. Brazilian fashion retailer Dafiti is exploring using beacons in city parks to "alert" people to "the latest park outfits and lifestyle news." As you can see, nowhere will you be safe from spam.
GuestDriven CEO Anthony Zebrowski-Rubin is clear as to why marketers are salivating over beacons: "Beacons provide a way to market, engage, and upsell customers, while driving repeat business." That's the same value of junk mail, email spam, telemarketing calls, billboards, and flyers left on your windshield.
Of course, businesses need to attract and retain customers, and they can more easily grow profits if they get existing users to spend more -- which is much cheaper than getting new customers. Beacons are a great technology to connect with those existing customers.
The issue is how a retailer uses the beacons technology, not whether it uses beacons.
Beacons today are largely an iOS phenomenon. Apple baked in support for its iBeacons protocol in iOS 7, and all its iPhones and iPads have supported the required Bluetooth Low Energy radios since 2012.
Several beacons makers, such as Estimote, have APIs that developers can use on Android, iOS, and other devices, but Android devices supporting Bluetooth Low Energy have become common only in 2014 models. Google is working on its beacons APIs, with some in Android 5.0 Lollipop now slowly rolling out -- aimed solely at use for mobile advertising.