Fire Phone, Galaxy S5, iPad Mini 3, and more: 15 major mobile flops of 2014
It's been a banner year for smartphones, tablets, and smartwatches of the turkey variety; here are the 15 biggest flappers.
Google keeps pushing its Docs suite on mobile devices and Apps suite (aka Google for Work) for the desktop Web as alternatives to Microsoft Office, but it keeps failing miserably on the mobile side of the equation - where all the computing growth is. It makes no sense.
Apple CarPlay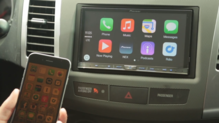 Apple CarPlay
Enough of the promises, already! Apple's been talking about CarPlay for more than two years, and it's still MIA. Those 2014 models from 29 marques that were supposed to have it on "select models"? Crickets. Apart from a $300,000 Ferrari vehicle, Pioneer is the only company that seems to have CarPlay gear, in the form of aftermarket stereos.
Sure, part of that is the slow pace of the automakers, most of whom still can't believe that people hate their horrible attempts at infotainment systems. (Ford, I'm talking to you!) Part of that is waiting for one of the kings of waitware, Google, to debut its CarPlay clone called Android Auto, so they're not beholden to only Apple.
But CarPlay's long hello is starting to feel like "Waiting for Godot" - without the intention to be so.
Turkeys that lived to see another year
You don't see BlackBerry or Windows Phone on my list of 2014's mobile turkeys - because they were 2013 turkeys that lived another year. Both are still struggling to hold onto their dismal market shares, but both are in the middle of plausible turnaround efforts that won't bear fruit for a good year.
BlackBerry has its back-to-the-past BlackBerry Classic (basically, a BlackBerry Q10 in a BlackBerry Bold case) debuting in a couple weeks, but its real hopes are on its expanded set of management capabilities and apps powered by its new BES12 management server.
The perpetually pretty but dumb Windows Phone got a serious update this year -Windows Phone 8.1 - plus the Siri clone called Cortana, but the real make-or-break point for Windows Phone is at least a year away, after the debut of the unifiedWindows 10. If that fifth version of the Windows Phone fails to turn on customers, Windows Phone will head to the carving table.
But that's a meal to contemplate for next year, not now.
Source: InfoWorld
Previous Page 1 2 3 4 5