BLOG: Microsoft to analysts: consumers are the gateway to cloud, enterprise usage
At Microsoft's financial analyst meeting, executives outline exactly where Microsoft's successes originate.
In the enterprise, Microsoft should move from a $1.5 billion annual revenue rate with Office 365 this quarter, and "blow that away" later this year, Turner said. Microsoft's enterprise, public-cloud service in China is the only one of its kind in the world, he said.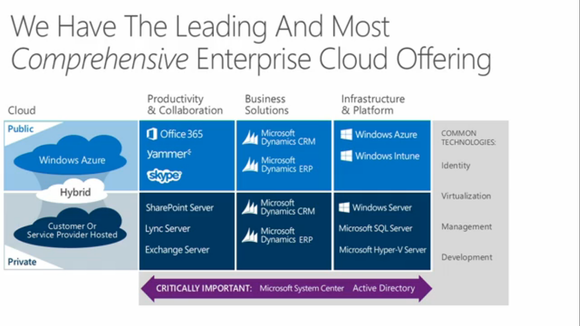 In the past year, Microsoft increased deployed users of Office 365 by 350 percent, Turner said.
"Some people have asked, what are you doing with Google in the enterprise?" Turner said. "We're winning them back, one customer at a time," and Microsoft sees that accelerating, he said--helped by the fact that "[Microsoft] doesn't snoop their email or listen in on their Wi-Fi."
"Microsoft has never been considered a critical-enterprise IT provider," Turner added. "Today we are. That is the new Microsoft."
Social media in the enterprise represents a $38 billion opportunity today, Turner said. About 85 percent of Fortune 500 companies use Yammer, while 90 out of the Fortune 100 companies use Microsoft's enterprise collaboration tool, Lync. Lync is a billion-dollar product; Skype has 320 million users.
Together, Lync, Yammer, Skype, and SharePoint in the enterprise make up a "incredibly compelling story" in the enterprise space, Turner said.
Turner also made a pitch for the upcoming Windows 8.1, and its business features: workplace join, as well as the ability to remotely wipe and clean the device of business data if the employee leaves the company. He also pitched Windows Phone as the smartphone platform of the future.
The Haswell or fourth-generation Core processor from Intel gives Microsoft the capability to have a fanless device on a better platform," Turner said. That will open up new form factors at new price points, he said, and Microsoft is working hard across with partners to make that happen.
Microsoft has also worked to improve its retail store experience, partnering with 200 Best Buy stores to put Microsoft boutiques within each. "We have to improve the retail buying experience," Turner said, referring to early customer reticence to buy PCs using the OS. "It hasn't been what we liked."
"The one thing we know about Windows Phone: when people use it, they really really like it," Turner said. Turner acknowledged that Windows Phone was a distant third behind Android and iOS, but with year-over-year gains like 900 percent in India, the company holds out hope that it will close the gap. Turner talked up its Nokia acquisition, but also highlighted partners such as Samsung and several Asian partners.
Finally, Turner said that its Xbox Live service has attracted 43 million users, about 40 percent of whom are female.
A power outage then interrupted the meeting.