BLOG: Microsoft to analysts: consumers are the gateway to cloud, enterprise usage
At Microsoft's financial analyst meeting, executives outline exactly where Microsoft's successes originate.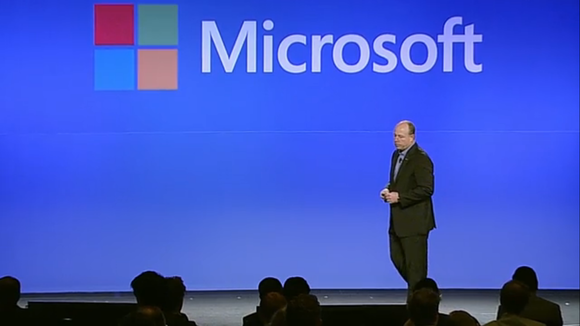 For all of its recent emphasis on its Surface tablet and the Xbox, Microsoft remains focused on the enterprise, and especially on the cloud--but its consumer offerings are a gateway, Microsoft executives said.
Microsoft chief operating officer Kevin Turner opened Microsoft's 2013 financial analyst meeting by disclosing that more than 55 percent of Microsoft's revenue comes from the enterprise, a number that he said Microsoft rarely discloses. Other key executives, such as chief executive Steve Ballmer, are expected later in the meeting's day, which runs until 5 PM PDT.
Wall Street may have hoped that Microsoft would answer some uncomfortable questions, beginning with Microsoft's unexpected shakeup. In July, Ballmer announced a sweeping reorganization that flattened the corporate structure and placed the company's key technologies in the spotlight, rather than making the individual products the focus.
In August, however, Ballmer unexpectedly said that he would retire at the end of 12 months, prompting feverish speculation about who would replace him: including Stephen Elop of Nokia, among others.
Microsoft's acquisition of Nokia helped boost Elop's apparent chances. Unfortunately, Amy Hood, Microsoft's chief financial officer, introduced the conference by saying that the company would be offering no new updates on the succession process.
Kevin Turner, another candidate to succeed Ballmer, first appeared on stage to present Microsoft's business strategy and where the company has succeeded. So far, that appears to be in the cloud.
More than 55 percent of Microsoft's business comes from the enterprise, Turner said, with 20 percent from the consumer market, 19 percent directly from OEMs, and 6 percent from small and medium businesses. Turner said that each field employee generates a total of $2.7 million per employee, a new high.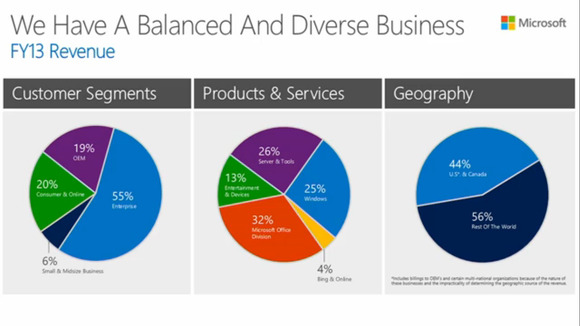 Microsoft's Turner also pooh-poohed the negative response from OEM competitors to some of Microsoft's own hardware plays, like the Surface. Turner referred to the consternation in the OEM channel when Microsoft launched Surface, with OEMs complaining about competition from Microsoft itself. "We don't want to make all the devices... but we will make some first-party hardware," Turner said.
"As a result of having those consumer services, we're able to deliver world-class business services at scale," Turner said. "When you think about the opportunity between these two worlds, we know the seams of hardware and software integration."
Turner also claimed that those OEMs now would claim that those products had improved dramatically.
Microsoft's focus: cloud, social, mobility, Big Data
Turner also took pains to emphasize how Microsoft was winning in the cloud.
Microsoft has 460 million MSN customers, 8 million Xbox Live customers, and Bing fields 4.6 billion queries per month. More than 400 million people use Outlook.com, Turner said, after Microsoft made it "more vibrant" and refreshed it, he said.