BLOG: I was a webcam zombie! How to look alive and professional in Web meetings
Your Web conferencing look could be scarier than you realize. These simple tips will help you look your best.
Your hair and makeup should be similar to what you'd wear in the office, though perhaps slightly more "done," most experts agree. The camera tends to wash people out, so you may need more blush or makeup than you'd normally wear, Fell says. Yonatan notes that even men may want to add a touch of powder...especially those who are a bit hair-challenged, and may have shiny spots on their heads.
Wearing too much makeup can be more distracting than wearing too little, so test your appearance on-screen before it's lights-camera-action time. Set up your equipment and see what you look like well before your call, and make any necessary adjustments.
Control your environment
I've conducted business calls while sitting in bed, lying on the couch, and even while cleaning my bathroom. But I would never conduct a video chat anywhere other than in my home office--and even there, only after I'd spruced it up.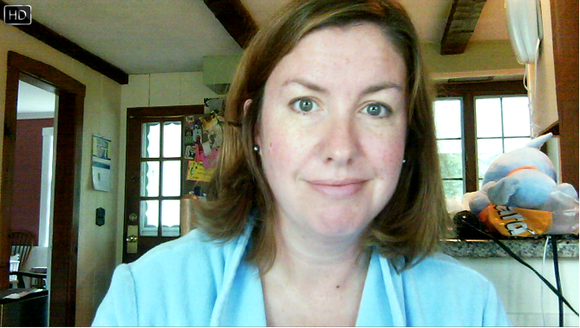 The light is flattering, but the bathrobe and kid clutter suggest that my mind isn't on my work.
"I tell people to make sure that their space looks professional, but personal and utilized. I always give the two extreme examples. The first is the room that is way too personal. I always feel awkward when you are watching someone who is clearly in their bedroom or you can see personal elements like dirty clothes or dishes. On the other hand, you have the folks that try to keep things so vanilla that they look like they are making a hostage recording in front of a white wall," says Dan Roche, VP of Marketing for TalkPoint, a Webcasting technology provider. Find a middle ground, he suggests: a personal but professional space with a bookcase or simple wall in the background. Keep windows, pets, kids, or anything else whose visuals or behavior you may not be able to control out of the background.
If your background is not at all camera-ready, you can set up an artificial backdrop with a curtain or sheet. Most experts agree that such a backdrop isn't ideal, though, unless you're shooting some sort of public video and want to use a branded banner or backdrop to market your company. If you're conducting a private video call, you should resort to a staged backdrop only if your environment is truly unprofessional. The folks on the other end of the call will know that you're sitting in front of a sheet or curtain, and they may wonder what you're trying to hide.
Lights, camera, action!
You may be wearing your best outfit, your hair and makeup may be perfectly done, and your home office may look immaculate--but none of that will matter if the person on the other end of your video connection can't see any of it.